AI Master's: Building Ontario's Ecosystem
The Vector Institute is building an AI workforce to drive the competitiveness of Ontario-based companies and labs and to strengthen Ontario's position as a global destination in AI. The Vector Scholarship in Artificial Intelligence, valued at $17,500, helps to attract the best and brightest students to study in AI-related master's programs in Ontario. There are currently over 20 master's programs in Ontario recognized by the Vector Institute for equipping graduates with AI skills and competencies sought by industry. These include new and expanded programs in core technical and complementary areas such as business and health. By providing an increasing number of students and graduates with meaningful professional development and linking them to compelling internship and career opportunities through the Vector Digital Talent Hub, the Vector Institute is positioning Ontario to lead the way in AI adoption.
CAREER OPPORTUNITIES AND SUPPORTS FOR MASTER'S STUDENTS AND ALUMNI
Vector Digital Talent Hub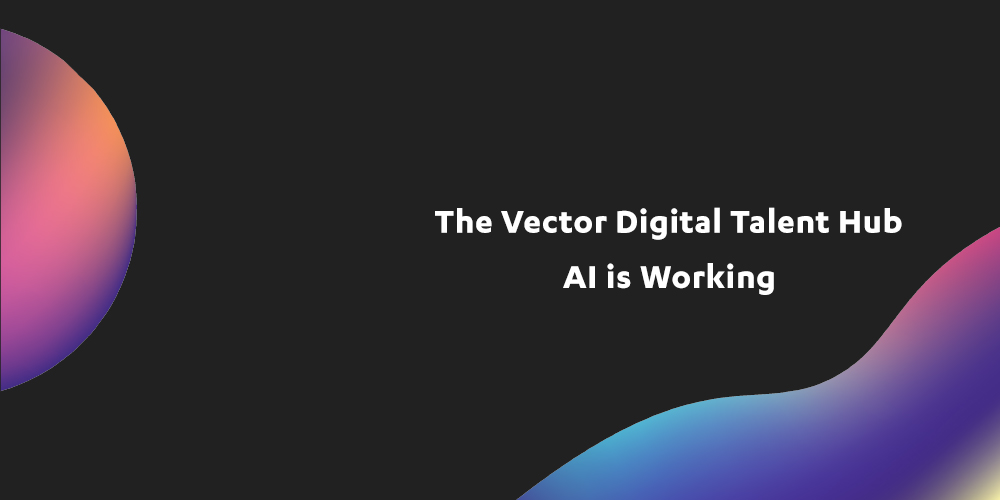 Students and alumni* have access to Vector's Digital Talent Hub. Users can browse and apply to AI job postings, set up automated job alerts, and upload their profile details for employers to contact them regarding career opportunities. Students and alumni* are welcome to Create a Profile.
Career Supports for Students
Vector-affiliated students and alumni* enjoy access to career development and networking activities. These opportunities enable students to explore various career paths in AI, better understand the opportunities and challenges of AI adoption across different sectors, and meet with potential employers. Sign up to learn about events and more!
*including students and graduates from Vector-recognized programs, recipients of the Vector Scholarship in Artificial Intelligence, as well as  researchers affiliated with Vector Faculty Members and Faculty Affiliates.
The Vector Institute has been tasked with supporting Ontario's growing AI eco-system including the goal of accelerating the number of artificial intelligence (AI)-related master's graduates. To achieve this goal, universities with expertise in AI-related areas are invited to expand or enhance relevant existing master's programs or create new AI-related programs to:
Meet the essential requirements articulated by Vector for core technical AI and complementary AI-related fields; and
Prepare highly qualified graduates who demonstrate area-specific advanced knowledge, skills and competencies sought by the AI-sector to build a highly skilled workforce and support economic growth and productivity.
Programs must prepare graduates to meet all essential requirements as well as advanced AI field specific learning outcomes. The Vector Institute Guidance Document for AI-Related Master's programs details both the process and requirements for program recognition. Programs are invited to complete the Program Recognition Submission form to be considered for recognition. While submissions for Vector recognition can be made at any time, the following are the scheduled meeting dates of the Program Recognition Panel for the 2020-21 academic year:
November 3, 2020
February 3, 2021
May 5, 2021
Benefits of Program Recognition
Programs recognized by Vector will be listed on our website as Vector recognized master's programs. Programs may highlight that they have been recognized by the Vector Institute as delivering a curriculum that equips graduates with the skills and competencies sought by industry.
Students enrolled in recognized programs can take advantage of:
Career development & supports such as the Vector AI Master's Summit & Career Fair, where students meet with like-minded peers from across Ontario and interact with potential employers that are building AI teams and adopting the technology across their organizations.
Opportunities to connect with Vector industry sponsors, who are at the forefront of AI in Canada through education and networking events hosted by the Vector Institute, such as the Careers in AI Panel.
Access to internships and full-time roles through the Vector AI Digital Talent Hub featuring AI-related opportunities.
Exposure to the latest AI research from around the globe through events such as:
Opportunities to engage with other students and alumni in AI master's programs across Ontario, both on and off-line.
**
The Vector Scholarships in Artificial Intelligence, together with internships and networking programs, are a core component of the Vector Institute's RAISE initiative, supported by the Province of Ontario, to develop and connect Ontario's AI workforce to fuel AI-based economic development and job creation.