CONGRATULATIONS TO UBER ON PLANNED TORONTO EXPANSION
September 13, 2018
This morning the CEO of Uber, Dara Khrosrowshahi, visited the MaRS Discovery District, which is also home to the Vector Institute, on his inaugural visit to Canada. Dara announced the company's plan to invest $200 million, and employ more than 500 people, over the next five years in a new software engineering hub in Toronto.
Uber, a platinum level industry sponsor of the Vector Institute, initially recognized Toronto's AI talent when it opened the Toronto Advanced Technologies Group research lab in May 2017. The lab is led by Raquel Urtasun, an Associate Professor at the University of Toronto as well as a co-founder of the Vector Institute.
This announcement comes on the heels of several major AI-related expansions announced in Toronto this year and is the fourth this week.
The message is clear; global companies continue to recognize Toronto and Canada as world-renowned centers for artificial intelligence research and development. Vector is proud to contribute to the rapidly growing AI ecosystem by creating a place for faculty, students and companies of all sizes to collaborate and share ideas.
Dr. Garth Gibson, President and Chief Executive Officer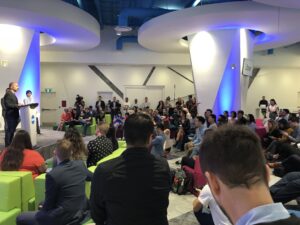 Learn more: Uber press release