2018 Deep Learning and Reinforcement Learning Summer School
It's no longer summer here in Canada, but we still can't stop talking about the 2018 Deep Learning and Reinforcement Learning Summer School! This past July, the Vector Institute partnered with CIFAR and the two other AI institutes under the Pan-Canadian AI Strategy— the Alberta Machine Intelligence Institute (Amii), and Institut québécois d'intelligence artificielle (Mila)—to host the largest summer school to date, which took place at the Rotman School of Management from July 25th to August 3rd, 2018.
For the first time ever, the event was held in Toronto and it welcomed over 250 of the best and brightest attendees from Canada and 19 other countries. Competition to attend was fierce! Attendees were selected by a research committee from a pool of over 1,200 applicants from over 60 countries. Attendees spent up to nine days building out networks of peer researchers, learning from leaders in their fields, and meeting partners within the Canadian AI ecosystem.
DLSS Organizing Committee: Yoshua Bengio, Aaron Courville, Roger Grosse, Graham Taylor
RLSS Organizing Committee: Amir-massoud Farahmand, Joelle Pineau, Doina Precup
Sharing World-Class Research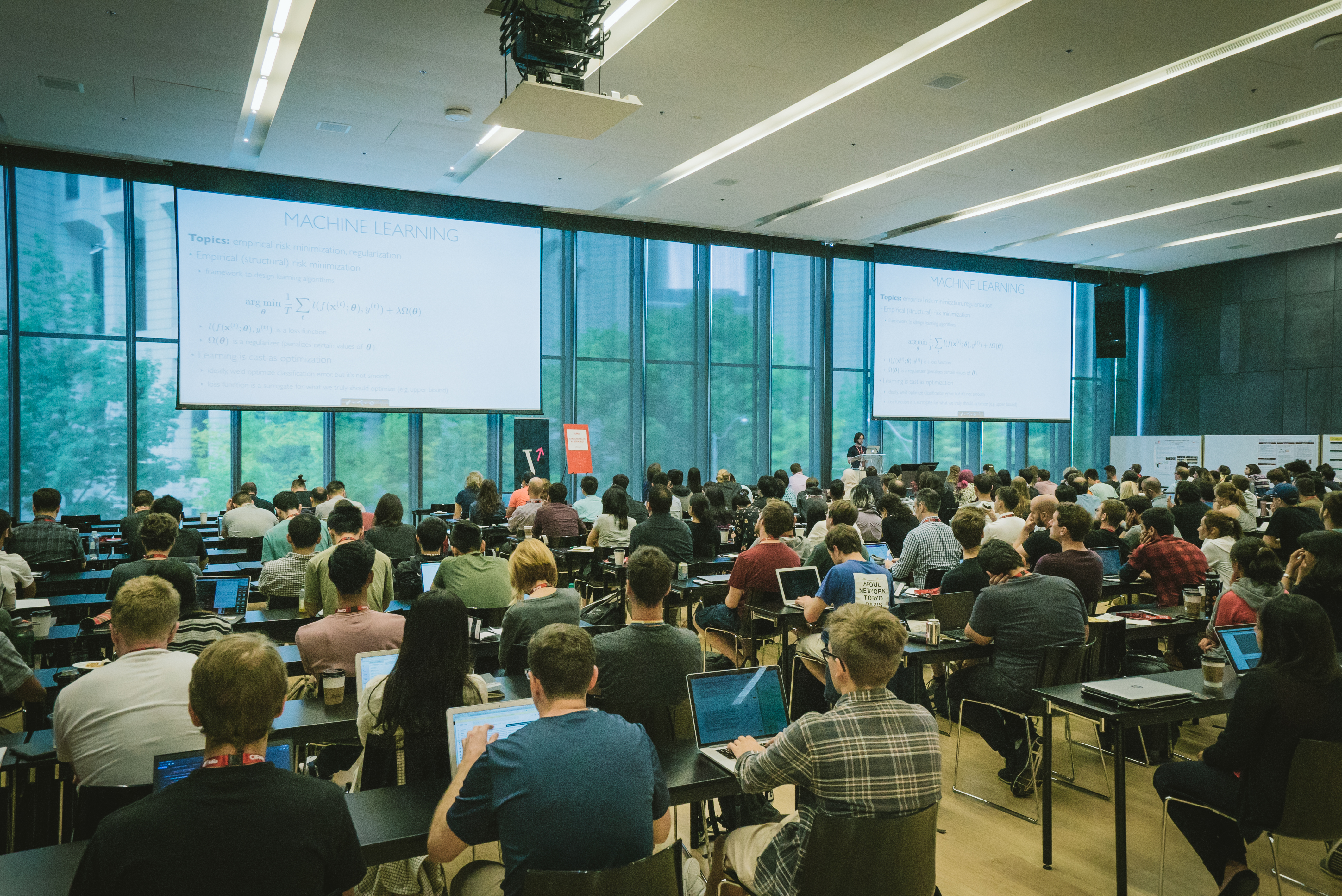 Distinguished researchers delivered lecture presentations and engaged attendees in sharing knowledge and ideas related to cutting-edge research. There were speakers from the University of Toronto, Université de Montréal, McGill, University of Alberta, CMU, MIT, Stanford, Google, Duke, and several other leading institutions. Attendees also heard from guest speaker, Ajay Agrawal, a world-renowned expert in the economics of artificial intelligence and founder of the Creative Destruction Lab at the Rotman School of Management. Students, too, were in the spotlight as they gave poster presentations and contributed talks.
A special session on AI in health care brought together researchers from Ontario's world-leading research hospitals and summer school attendees to discuss the potential for AI to have real-world impacts in areas including psychiatry, neuroscience, diagnostic imaging, patient monitoring, cardiac care, and population health.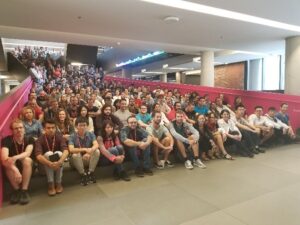 Class photo
"The summer school has been packed with energy from day one – after each presentation, students had an opportunity to meet the speakers, ask questions and build relationships and mentorship opportunities," said Graham Taylor, Canada Research Chair and Associate Professor, University of Guelph and Vector Institute Faculty.
Speakers
Deep Learning Summer School
| | | | | | |
| --- | --- | --- | --- | --- | --- |
| Sanjeev Arora | Jimmy Ba | David Duvenaud | Yoshua Bengio | Sanja Fidler | Katherine Heller |
| Phil Isola | Balázs Kégl | Jamie Kiros | Been Kim | Hugo Larochelle | Graham Neubig |
| Jorge Nocedal | Sageev Oore | Blake Richards | Jonathon Shlens | Andrew Wilson | |
Reinforcement Learning Summer School
| | | | | | |
| --- | --- | --- | --- | --- | --- |
| Marc Bellemare | Michael Bowling | Emma Brunskill | Hal Dumme lll | Amir-massoud Farahmand | Mohammad Ghavamzadeh |
| Tor Lattimore | Sergey Levine | Doina Precup | Richard Sutton | Martha White | |
Vector Institute AI Job & Data Fair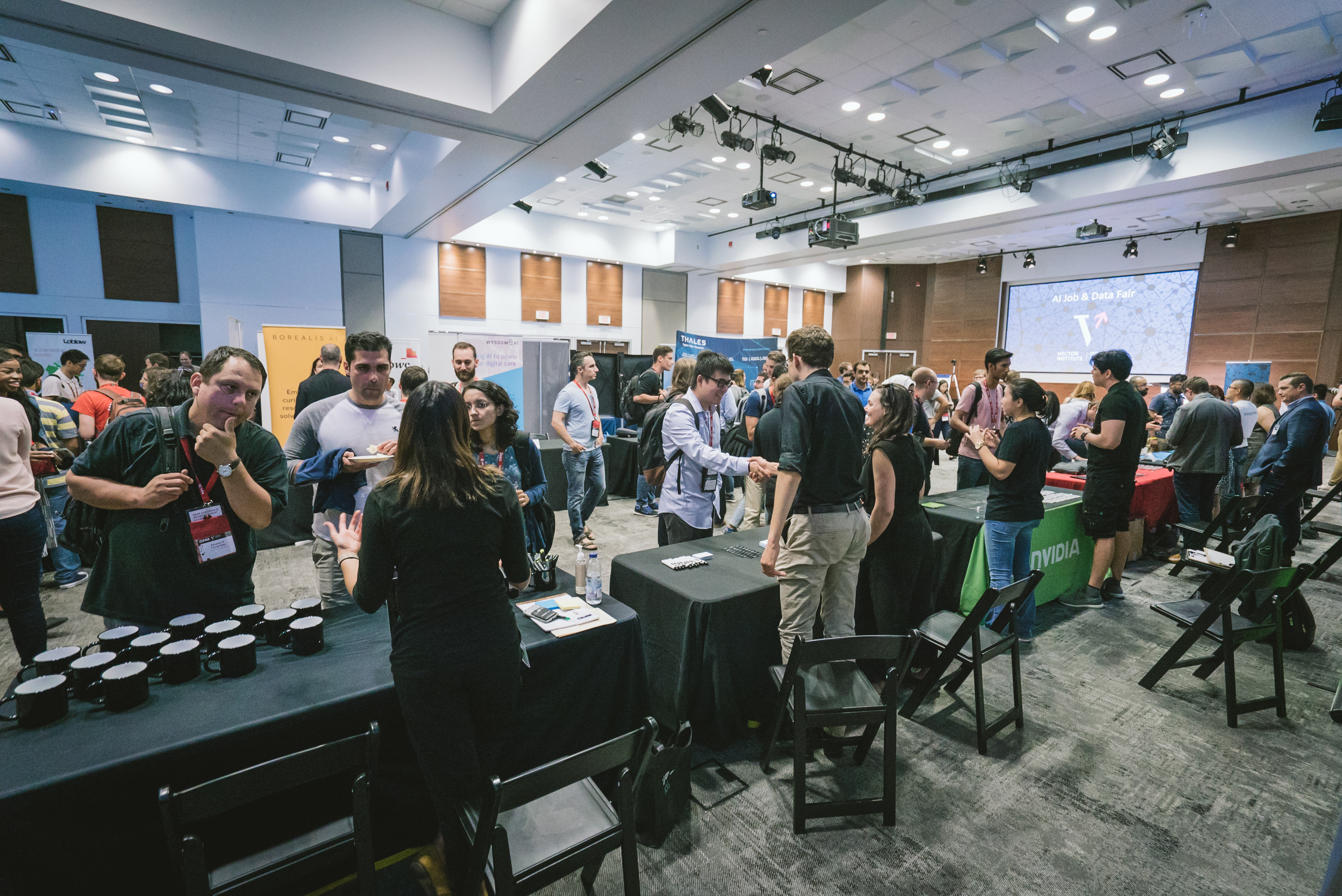 The summer school culminated with the Vector Institute's AI Job and Data Fair with approximately 500 attendees, including summer school participants, and grad students and faculty from Vector's broader research community. Thirty booths were set up with representatives from companies across Canadian industry, including from the financial, transportation, technology, health and other sectors that showcased opportunities to work on real-world data sets. There was even an on-the-spot interview that turned into a job offer!
"There is a great opportunity here. We call this the Job and Data Fair because we are not just trying to give you jobs through recruiting, but we are trying to find you problems and the datasets that enable you to take advantage of those problems," said Dr. Garth Gibson, President and CEO of the Vector Institute.
Students also had a chance to connect and hear about specific machine learning advances in Canadian industry during lunches sponsored by Microsoft Research, the Peter Munk Cardiac Centre, PwC, Stradigi AI, and TD Bank.
"We're really honoured and excited to be here and have the opportunity to meet many talented students and researchers working in similar fields," said Yue Dong, a student at McGill University.
"I've met so many people from different countries, Belgium, Netherlands, Germany, and I've made a lot of contacts" said  Franck Tchuente, Graduate Student, University of Ottawa.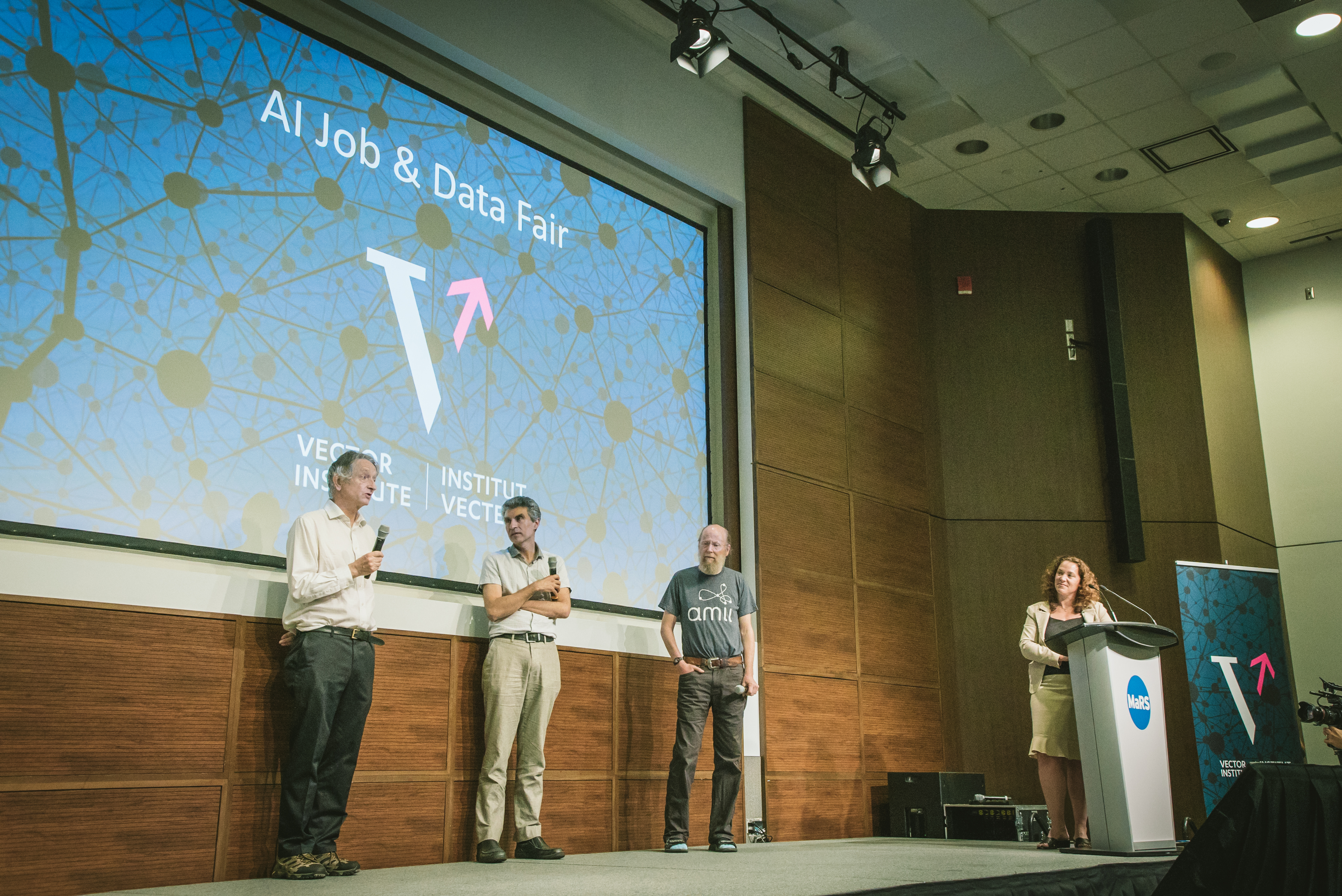 Vector's Job & Data Fair featured a special panel discussion with Geoffrey Hinton, Richard Sutton, and Yoshua Bengio who imparted their advice for the audience full of up-and-coming AI scientists and practitioners.
Beyond the Lecture Halls
In addition to insightful lectures, presentations, and workshops, students had an opportunity to explore the sights and sounds of beautiful Toronto by day and attend lively networking events by night.
Thanks to the City of Toronto and Toronto Global, students explored different neighbourhoods of Toronto and got a feel for what it's like to live in Toronto and enjoy its diversity. A number of industry- sponsored social events offered students an opportunity for networking and getting to know each other better. Our AI ecosystem partners, Borealis AI and Shopify each hosted a Toronto night networking event, while our pan-Canadian colleagues at Amii and Mila hosted an Alberta Night and a Montreal AI Ecosystem Night.
"There is tremendous opportunity across the three AI institutes and our hope is for students to see Canada as a wonderful place to advance their education and pursue their careers," said Dr. Elissa Strome, Executive Director, Pan-Canadian AI Strategy, CIFAR.
Learn more about the 2018 DLRL summer school!
Visit dlrlsummerschool.ca to stay up-to-date about next year's summer school to be hosted in Edmonton by Amii.
The 2018 DLSS and the RLSS are hosted by the Canadian Institute For Advanced Research (CIFAR) and the Vector Institute, with participation and support from the Alberta Machine Intelligence Institute and the Institut québécois d'intelligence artificielle (MILA).