AI Research Symposium highlights new Vector research
The Vector Institute held its fourth annual AI Research Symposium in February, showcasing new cutting-edge AI research from the Vector research community. The event brought together over 200 researchers, including some of the world-greatest minds in AI, to listen to keynote presentations, check out poster presentations from researchers, and socialize with friends and colleagues. This year's event was the first partially in-person gathering of Vector's research community in three years.
"The Research Symposium highlights the work of students and postdocs, connecting them with Vector's faculty members and faculty affiliates," says Vector's research director Graham Taylor. "It's an important touchpoint for the entire Vector community and a communications development opportunity for trainees."
Talks from Vector researchers highlight new breakthroughs
Vector Postdoctoral Fellow Franziska Boenisch kicked things off with her talk, "What Trust Model is Needed for Federated Learning to be Private?" "There is always a severe risk of privacy leakage for the user," she said after the talk. "And even if we protect the federated learning protocol with dedicated techniques, there is still a risk of privacy leakage because the companies or the services deploying the protocol have the upper hand in comparison to the users." 
Visiting from Vancouver, Vector Faculty Member Vered Shwartz's gave the talk "Incorporating Commonsense Reasoning into NLP Models." "NLP has made a lot of progress over the last few years," she said after her presentation, "but it still lacks common sense reasoning, which is required to understand language." Where humans can understand the ambiguities of language through inferences and implicit understandings, NLP models for the most part still cannot.
Also onstage was Vector Faculty Member Shai Ben-David, who spoke about applying foundational models to the concept of fairness in his talk "Can Fairness be retained under distribution shift?" This year was also notable for the inclusion of a keynote from an external speaker: Colin Raffel, Assistant Professor in the Department of Computer Science at the University of North Carolina, Chapel Hill and Faculty Researcher at Hugging Face. Raffel spoke about "Building better language models."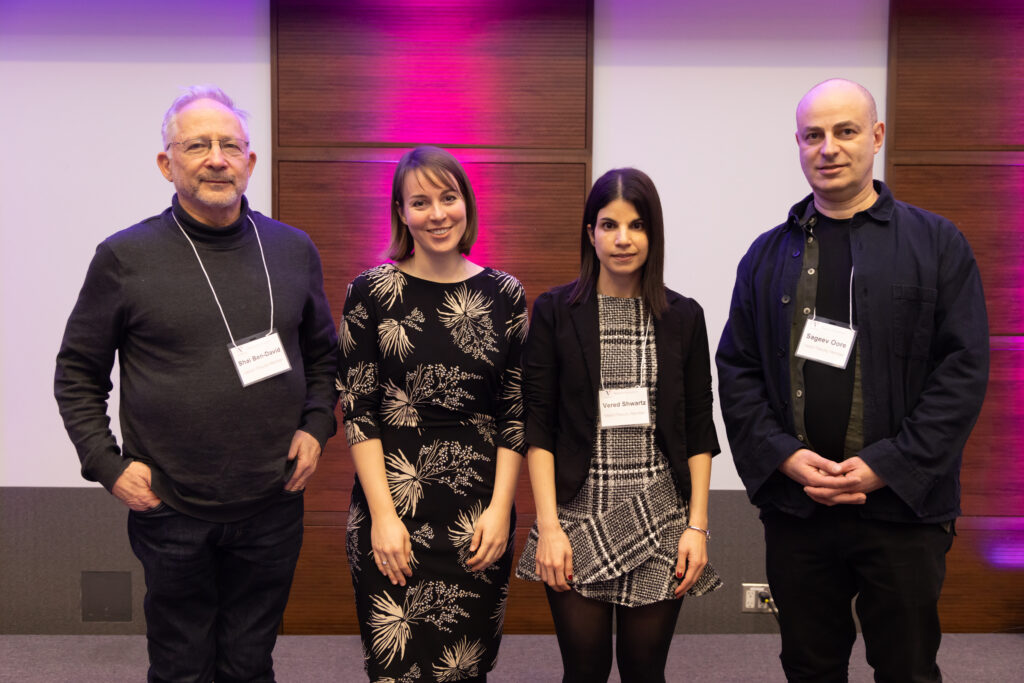 Poster Presentations help Vector's community reconnect
The event was capped off by 46 poster presentations from Vector researchers. Along with showcasing their work it also gave members of the community a chance to socialize with old and new friends. "I jumped at the opportunity to present here," says Fasil Cheema, a student of Faculty Affiliate Ruth Urner at York University. "Even though we have a good community, we've become isolated. It's been harder to reach out to other researchers because I work in a smaller lab. Seeing what other researchers in Canada are working on, it's a nice way to introduce people. Cold calling, email works too, but this is different."
That was a sentiment echoed by many in attendance, including Tony Gaffney, Vector's President and CEO. "What's really important about this event is that it starts to bring us back together in person. When we collaborate in person, we're that much more effective.
"The vibe in the room is really positive and exciting"